What are the reasons for Chinese consumers taste for gold?
Gifts and the desire of a high social and economic status are the main reasons why Chinese shoppers want to buy gold. There are several social and economic reasons that have boosted the gold sales in China. Since 2012, China outranked India as the largest consumer of gold in the world. China is both the biggest producer of gold and importer of gold worldwide.
In 2018 China consumed 26% of global gold demand due to the lower prices. The consumers took advantage of these prices and therefore their jewelry purchases increased. Their favorites are the jewelry of 18 carats which is composed of 75% gold blended with other metals. This versatile composition allows creating new and different designs, including diverse kinds of gems.
The importance of gold prices for Chinese buyers
Another advantage of the 18-carat gold is the price, lower than pure 24-carat gold. In addition, it is difficult to sell pure gold jewelry. In 2013, a malfunction in the restocking of gold by jewelry retailers was the reason why there was a shortage of gold in many Chinese cities. That was a shock for Chinese consumers who desired to buy gold and Chinese wealthy buyers keep investing in gold nowadays, in 2020. Gold remains a very good investment and a safe placement.
A Gold for prestige and financial safety
There are some factors that have driven the gold demand in China such as the rising disposable incomes. More incomes mean a greater spending power to buy more items, including gold, the safest investment according to most. In addition, the growing middle-class which it is estimated will continue to increase up to 500 million people in 2020 also helps to boost the gold sales due to their increased wealth and spending.
Chinese consumers buy gold for two main reasons: as a store of value and to give as a gift. Another reason is that gold is seen by Chinese citizens as a way to show their value and economic status because this metal represents financial security. Chinese citizens buy gold items in order to give a gift on special dates such as childbirths, Chinese New Year, or Valentine's Day.
Weddings and gold: a Chinese love story
In China, weddings are responsible for 40% of the gold consumption in China. According to the World Gold Council, the gold demand in China will still increase up to 20 percent during the next three years. Only in September, the number of gold imports from Hong Kong totaled 61.7 metric tons.
Nowadays, in China, there are roughly 100.000 jewelry outlets, which means that the uptrend of jewelry consumption in China has boosted the number of retail outlets. The first jewelry store openings were in first and second-tier cities but then this boom was expanded to more than 600 third and fourth-tier cities.
Drop of the gold market in China
However, in 2014 the overall gold jewelry sales have dropped by 39% Y.O.Y for Q3 2014, according to the data. To counter this Jewelry brands have to come up with new ideas to attract customers back into buying jewelry. That is where the 18-carat factor in.
It is cheaper and easier to be used in jewelry once blended with other metals and precious stones. Here no questions asked: to attract those customers back designers must create very original designs to stand out and gain new Chinese customers. However, when going into the Chinese market a great design is not enough.
Gold and digital practices for the Chinese market
Chinese consumers increasingly goes digital when it comes to buying, from clothes to high-end jewelry: 634 million internet users in China. Therefore, in order to attract these customers, jewelry brands must develop a well-crafted digital marketing strategy in China.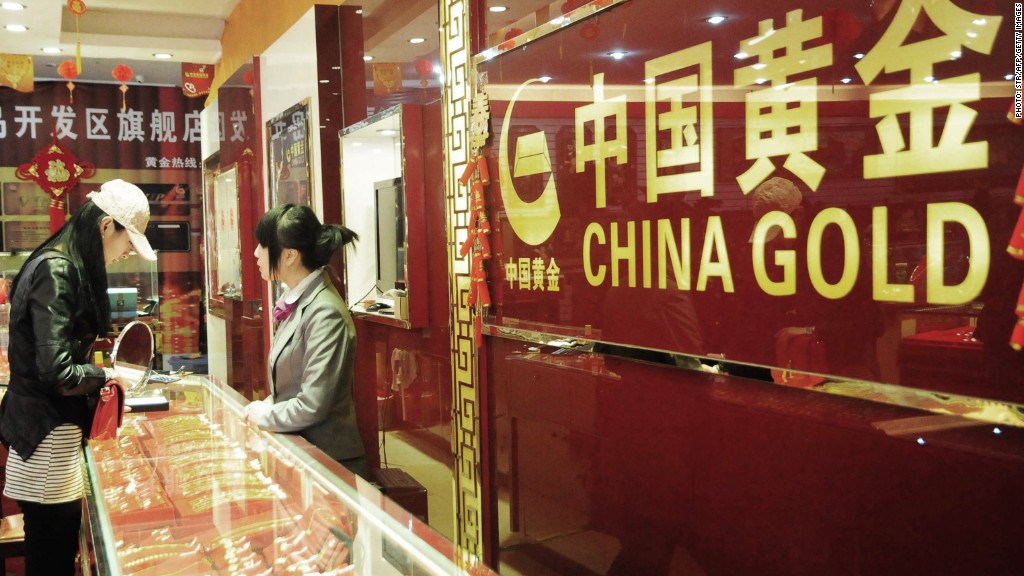 What they should do:
Develop their visibility via the use of SEO on Baidu
Provide a strong user experience online on their brand website matching the Chinese customers' tastes
Have a strong presence on social media
If you are interested to increase your number of Chinese customer, contact us.
We are a specialist agency based in Shanghai, the economic heart of China's modern miracle. We understand digital and the real methods of success in this lucrative real estate market. Visit our agency's website, browse our 300 case studies and contact our agency now and establish a varied strategy that suits you to be successful in China. If you just want to discover the gold market in China, or if you are interested in the latest Chinese trends, we can help you. With more than 7 years of experience in China, we are able to become your partner and to create a long-term relationship with your brand to establish and develop it the way you like.
Read more about fashion in China: